The Australian Speleological Federation Inc. maintains an extensive collection of caving and caving related literature, as well as being the repository for the Federation's Archives. The collection includes books, journals and magazines, club journals and publications, maps, posters, artwork, postcards, photographs and memorabilia.



The physical contents of the ASF Library are held at North Wyong NSW. Access to the Library is available to all ASF club members on request to the Librarian or a member of the ASF Executive. The resources of the Library are there to use and everything except archive, reference and rare material is available for loan. Due to the ASF having member clubs all over Australia, an effort is being made to provide as much electronic access to the Library holdings as possible. Links can be found in catalogue entries where an item is available to view online. Some material will only be available to ASF members and you will need to log in to access this online (though we are still working on the login feature). The current ASF Librarian is Cathi Humphrey-Hood. Please see the "About" section of this wesbite for more details about accessing material.
I you have any questions about the Library, you can contact the Librarian at asf.caves.library@gmail.com

Dirk Stoffels from CSS has built a multimedia index to help with finding DVD, video and photograph holdings while cataloguing is taking place:



Latest News

The Explorers Journal is the official quarterly publication of the Explorers Club, and it is highly regarded for high quality journalism, beautiful photographs and excellent presentation. The two most recent issues are no exception, and include articles on "Underwater Caves of the Kalahari" (3D mapping the largest subterranean lakes in the world), "Courting A Restless Goddess" (a brief account of the Nepalese earthquake in April 2015 by a climber who was trapped above an avalanche), and "Magnificent Obsession" (about a century of British climbing in the Himalaya). The ASF Library receives hard copies of the Explorers Journal and the latest two issues have just turned up in the PO Box. If you would like to look through them, please contact the Librarian.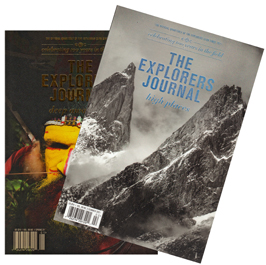 *

Although the 32nd Biennial ASF Conference at Ceduna has been postponed, we still intend to set up a "library reading corner" in 2023, with a selection of titles for attendees to browse through - so if you are coming to the conference and there are things in the Library that you would particularly like to read, have a look through the catalogue and let the Librarian know if there is anything that appeals to you.


In the meantime, we are hoping to present some talks through the ASF where we'll be describing how the library is set up, what is in it, and how to find it.



Items recently received (digital format unless otherwise marked):

ISS December 2021 Newsletter
JSS Vol.65 No.12 December 2021
JSS Vol.65 No.11 November 2021
MSS Quarterly Newsletter No. 4 - Spring 2021
Bulletin of the Akiyoshi-Dai Museum of Natural History No.56 March 2021 (hardcopy only)
Bulletin of the Akiyoshi-Dai Museum of Natural History No.55 March 2020 (hardcopy only)
Karstologica 77 - 1 - 2021 (hardcopy only)
Spelunca No.163 - September 2021 (hardcopy only)
Spelunca No.162 - June 2021 (hardcopy only)
Senckenberg Museum 151 - Heft 7-9 2021 (hardcopy only)
Senckenberg Museum 151 - Heft 4-6 2021 (hardcopy only)
Senckenberg Museum 151 - Heft 1-3 2021 (hardcopy only)
Senckenberg Museum 150 - Heft 10-12 2020 (hardcopy only)
Senckenberg Museum 150 - Heft 7-9 2020 (hardcopy only)
Senckenberg Museum 150 - Heft 4-6 2020 (hardcopy only)
Die Hohle Vol 72 Heft 1-4 2021 (hardcopy only)
Die Hohle Vol 71Heft 1-4 2020 (hardcopy only)
Cave and Karst Science Vol 48 No 1 April 2021 (hardcopy only)
The Explorers Journal Vol 99 No 2 Summer 2021 (hardcopy only)
The Explorers Journal Vol 99 No 1 Spring 2021 (hardcopy only)
Proceedings of the University of Bristol Spelaeological Society Vol 28 No 3 2021 (hardcopy only)
Caves Australia 218 November 2021
The Explorers Journal Vol.99 No.2 Summer 2021 (hardcopy only)
The Explorers Journal Vol.99 No.1 Spring 2021 (hardcopy only)
Spelunca No.161 March 2021(hardcopy only)
ESpeleo Bulletin No.4 November 2021
Trog Vol.56 No.10 Sept-October 2021
JSS Vol.65 No.10 October 2021